Advance Kids, Inc. Diversity, Equity and Inclusion Statement
Our vision is to inspire a community where every individual and family's journey with Applied Behavior Analysis is both beneficial and life changing in all the ways they choose.
At Advance Kids, Inc we continually work towards addressing the needs of our patients, families, and staff in an ever changing and diverse culture. Our organization is committed to the field and treatment of behavioral health consistent with the Behavior Analyst Certification Board (BACB) and our strong code of ethics. Our organization provides meaningful service to individuals of varying abilities by focusing on the assessed need, support system, and individual values. Together, the team then develops a transparent plan of care for that individual.
Advance Kids, Inc is also focused on promoting an organizational culture that protects and supports people of various racial, ethnic, cultural, social, religious, and gender identities. Our organization is working very hard to break down barriers and build a community that is inclusive, diverse, equal and empowering. At Advance Kids, Inc. this culture applies to the sensitivity our clinicians utilize in providing a culturally competent approach when developing treatment plans. Our behaviorists ensure services are conducted in a way that is respectful and supportive of caregivers, and honors individual religious and cultural practices. This is discussed in assessment and ongoing when developing goals in a culturally sensitive manner. Employees of Advance Kids, Inc. are also provided the same level of respect, dignity and support in the workplace environment.

Steps Advance Kids, Inc Has Taken: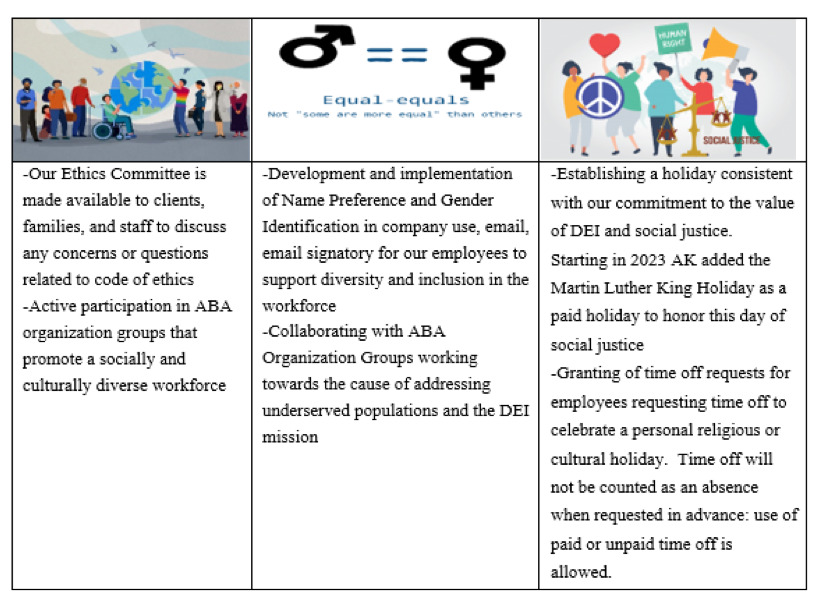 Advance Kids, Inc. DEI Future Action Plans:
Diversity in Thought: Implementation of cultural competency into client and employee surveys to provide opportunities for direct feedback and qualitative review for Advance Kids, Inc development
Equity & Social Impact: Development of employment-led DEI events with employees, by employees! A goal of at least two events per year addressing topics chosen by employees
Inclusion Practices: Introspective review of hiring practices to ensure the selection and interview process upholds cultural humility integrity